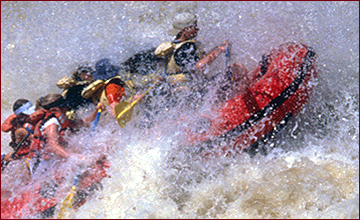 Far Flung Adventures

Whitewater Rafting is Nature's Magic Carpet Ride!

Northern New Mexico offers river rafting experiences ranging from leisurely multi-day trips down the Chama River to the Class III and IV+ rapids of the Rio Grande's Taos Box for a rugged whitewater ride.
Far Flung Adventures, Northern New Mexico and the Rio Grande's premier river rafting outfitter, invites you to experience a Southwestern wilderness river rafting adventure on the whitewater rafting rivers of the spectacular Sangre de Cristo and San Juan ranges of the Southern Rocky Mountains. Raft the Rio Chama, the Arkansas River, or the Rio Grande, New Mexico's legendary (and the nation's first) Wild and Scenic River. Choose a Taos Box world class whitewater day trip or a Rio Grande Gorge multi-day expedition, a half-day scenic float, Class III racecourse fun run, or a seven day intensive.
River Raft the Incomparable Scenery of Northern New Mexico's Wild and Scenic Rivers

The northern region of New Mexico offers access to unprecedented beauty and incredible scenery, with Northern New Mexico's rivers offering the rafting enthusiast an unforgettable experience. Far Flung Adventures is located in Taos, offering easy access to the finest rafting in New Mexico. The diversity of the terrain accommodates all skill levels, whether you are a first time rafter getting your toes wet on the Pilar Racecourse, or a well seasoned rapids junkie getting soaked on a white water rafting trip, the professionals of Far Flung Adventures will do their best to make sure that you and your family have an excellent New Mexico rafting adventure.
The rivers of the Southwest carve incredible canyons through isolated locations providing access to unforgettable scenery and wildlife. Your Far Flung guide is a local resident who will give you insight on the natural and cultural history of the region as well as a river rafting adventure you will never forget. Far Flung Adventures provides everything you need for the wide variety of river trips they offer, from as little as three hours to as long as three days. If you are planning a vacation to the southwest be sure to book an unforgettable river rafting journey on one of Northern New Mexico's Wild and Scenic Rivers.
RAFTING TRIPS:
Wild Rio Grande Rafting Trip The La Junta Run
A full day river trip (approximately 5 hours) in the Rio Grande Gorge, offering mild whitewater rafting (one Class III), with a chance to enjoy the scenic beauty of the Rio Grande Wild & Scenic River sans white knuckles.
Rio Grande Orilla Verde Scenic Half-Day River Rafting Trip
This Rio Grande rafting trip traverses relatively calm water. The open canyon allows scenic views of basalt cliffs, high desert and riparian habitat. The ancient lava flow through which we float is scenic and accessible. The river winds its way through willow and tamarisk, providing prime bird habitat. Several Class II rapids occur throughout the outing, in between calm stretches perfect for swimming.
Lower Rio Grande Gorge Rafting
Spend the morning rafting down the Rio Grande near the Orilla Verde Recreation Area, with beautiful scenery and just a couple of mellow rapids. This trip's midpoint is the village of Pilar, New Mexico. Below the village, you will enter the section called the Rio Grande Racecourse, a section of intense whitewater, with rapids named: Albert's Falls, Herringbone, Narrows, Big Rock, and Sousehole.
Rio Chama Rafting Trip
The Rio Chama in Northern New Mexico is America's Newest Wild and Scenic River. This 10 mile Rio Chama river rafting trip begins near the tranquil setting of the Christ in the Desert Monastery and ends at the head of Abiquiu Reservoir, rolling among the rainbow cliffs typical of the Four Corners region. Located in one of the most beautiful parts of New Mexico, sandstone cliffs from the Triassic and Jurassic ages surround you on your 30-45 minute drive.
Rio Grande Race Course
The Rio Grande Race Course is well suited for families and first-timers. This 2 1/2 to 3 hour tour navigates Class I to Class III rapids (easy to moderately challenging) with names like Big Rock, the Narrows, and Souse Hole. You'll enjoy refreshments at the end of the trip, and
return you to your vehicle and dry clothes!
Rio Grande Taos Box - World Class Whitewater
This trip is entirely within the black, lava walls of the Rio Grande Gorge, up to 1000' feet in height. The gradient profile begins with two miles of fairly gentle drops (Class I), then nine miles of Class II-I), culminating in five miles of Class IV-IV+. This latter section, beginning at the precipitous Powerline Falls includes almost continuous whitewater, through drops with names like Rock Garden, Boatreamer, Screaming Lefthand Turn, and Sunset.
Special Combination Trips
Far Flung Adventures also offers trips which combine rafting with horseback riding, rock climbing, fishing and camping, as well as trips for the gourmet and music lover. Read more about all the rafting trips offered by Far Flung Adventures' on the website.
In early season the Box is what boaters call "a screamer", often runnable in as little as three hours floating time. However, most typically we will plan to return the participants to their vehicles between 2 p.m. & 3 p.m. A delicious buffet lunch with sandwiches, salads, fruit and cookies is included, served at river's edge.
Join Far Flung Adventures for the Ride of a Lifetime!

A pioneer in providing up-to-date, comprehensive skills training for outdoor and rescue professionals throughout the Southwest since 1978, Far Flung Adventure's whitewater rafting school takes rafters with just a little experience and a lot of desire and make competent whitewater navigators out of them in seven intensive days of boating. Far Flung Adventures' top-rated guides will give you more than just a rafting trip. They are group and family travel specialists, river skills instructors, naturalist, cultural and environmental interpreters. Fully licensed and insured, they provide the best in river equipment, meals and experienced, friendly guides. If you are planning a vacation to the southwest be sure to book an unforgettable journey on one of New Mexico's Wild and Scenic Rivers. .