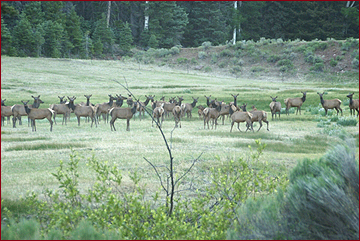 Hollenback Hooks & Horns

New Mexico Elk Hunting & Fly Fishing Trips

Experience the New Mexico Elk Hunt of a lifetime with Hollenback Hooks & Horns as your guide. The thrill of being up close with one of the largest mammals in North America is truly amazing. At Hollenback Hooks & Horns, your hunting and fly fishing guides have over 40 years of experience as outfitters, guiding elk hunters and fly fishers through the best private land in New Mexico.
Hollenback Hooks & Horns is a family run operation in Eagle Nest, New Mexico. Joe Roy has been a guide and outfitter for hunting and fishing in Northern New Mexico since 1968. He and his wife Jeannine owned and operated the Canadian River Cattle Co. west of Roy, New Mexico, where they outfitted and guided for mule deer, pronghorn antelope, aoudad sheep, Siberian ibex and mountain lion until they sold the ranch in 1998.
In 1980 Joe Roy began guiding elk hunters for Jeannine's father, Johnnie Mutz, on his ranch north of Eagle Nest, New Mexico. Joe and Jeannine now own the ranch and guide as Hollenback Hooks & Horns, the best reasonably priced, private land elk hunting in New Mexico.
Elk Hunting in the Rocky Mountains of New Mexico

Hollenback Hooks & Horns offers elk hunting at its finest on private New Mexico lands. Hunt in the beautiful high mountain desert in Northern New Mexico, home to magnificent New Mexico Elk. Hollenack Hooks & Hor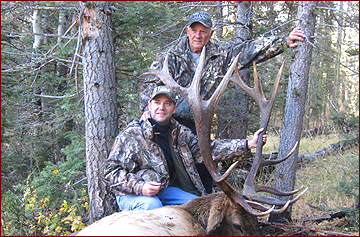 ns schedules archery and rifle hunts for parties of up to four hunters at a time. Hunting trips last five days and are scheduled from mid September through December.
Elk are notoriously difficult to find. They can be quiet and elusive, blending into their surroundings. Historically, hunters have returned from trips with tales of tracking phantom bulls. Some people even live with elk on their property and never see the animals. With more than 40 years experience hunting New Mexico elk, Joe Ray and Jeannine are committed to making your hunting trip a success, and the adventure of a lifetime. Enjoy the beauty and serenity of Northern New Mexico's Southern Rocky Mountains, spectacular views, and magnificent sunrises and sunsets while in search of your trophy animal.
Elk hunts are for either sex. Archery hunts begin in mid September, with rifle hunts starting on October first. During each five day hunt, hunters have the opportunity to harvest bulls between 280 points and 350 points. Some hunters have harvested bulls in the 370 point range.
Your hunt fee includes guide and vehicle, assistance in retrieving, field dressing and skinning the elk. All hunters with some experience are welcome. Children up to 18 years of age must be accompanied by a parent, and have a hunters safety card as required by the State of New Mexico.